Another wedding that Jenn P. got me invited to, this time in The Pas. We listened to electro music a lot; it was a blast.
Joey happened to be the son of two long time customers at my parents' restaurant. I had never met Joey in person, but he was a guy with a good sense of humor and a subtle charm that lended well to the camera. Jaime was the kind of bride you would see in magazines – statuesque and tall, but with an approachable air and a great sense of humor. She held her emotions in check for most of the day until I trained my camera on her for her secret message to Joey. I felt so bad for almost making her cry, and I feel like when she watches this, she's probably going to cry again.
The church. Holy cow, the church. Now, I'm not a religious man, but that church!! Did I mention the church yet? It was a beautiful venue full of wonderful nooks and crannies. I could make an entire film of the church alone. Even in the much larger church of the third wedding I did, this one blew it out of the water. And in The Pas, no less! Sometimes you find these kinds of gems in small towns.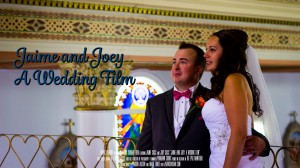 The venue sucked for lighting, though. My nifty-fifty came through once again, but it was at that point that I was really chomping at the bit for Canon's 50mm f/1.2L. That would have been amazing to shoot with.
Jaime's brother happened to be a filmmaker as well. It was interesting to swap stories and talk shop with him. I don't know how his film turned out, but I hope it went well. Unfortunately, it was challenging to keep him out of the shot since we were both competing for the best ones, but I think I did well under the circumstances. The great thing about my style of cinematography is I only ever need a few seconds of footage at the most.
I didn't leave the camera recording on this one. Power was limited, and I didn't know if I would have easy access to setup my laptop and transfer files off while charging batteries at the same time. So I was very selective with my shots.
Post production went in a different direction this time. I had discovered The Music Bed, among other licensed music sites, but something about the way their site worked made it easy for me to curate more accurate results. I wanted music to be at the forefront because I planned to design this film to be more like a music video. I marked two tracks by beat in Premiere Pro and used musical cues to layout each sequence. Once that was done, it was a matter of varying up the b-roll until I was satisfied. It made the process go by smoother than ever before. This resulted in a film that I think is my best yet.
Unlike the last time, I avoided my zoom lens. I got in real tight for my close shots, so I was always on the move. Throughout the ceremony alone, I think I circled the church's circumference at least twenty times. Unfortunately, the church didn't have a PA system with XLR, so I was left out in the cold for audio. The reception had perfect PA audio, but with the length of each music track, I decided to just forego the speeches and let the music speak for them.
All in all, I loved the experience of being in The Pas, hanging out with Jenn, meeting some incredibly fun people (shout out goes to Trevor, the best man, for livening up the place by 9000%), and mastering my craft even further. However, I didn't get to eat the cake because I was so busy!
How about that music track by Landon Austin? I've got that song hecka stuck in my head!
Check out this project on my Behance portfolio!